Christmas Wreath Fundraising Program
Brown's Tree Farm has been growing and selling fresh, real Christmas trees for over 40 years! Now, we are proud to offer the most automated and profitable Christmas wreath fundraising program available through "Best Wreath Fundraising .com" and our all new WreathRaiser online platform. Our high-quality wreaths are made from a mix of high-quality Fraser Fir, Balsam Fir, Concolor Fir, and Korean Fir boughs.
.
Raise Funds with Ease, Even in a Tough Economy
A wide variety of non-profit groups can benefit from our fully automated, no up-front-cost Christmas wreath fundraising system. The average Christmas wreath fundraiser group can raise between $4,000 - $6,000, with larger organizations potentially raising a great deal more; there are no limits. You are selling a high demand product that many people will already be shopping for, with an average of $12 - $20 profit per Christmas wreath. Most members of your community would rather support a local organization than a large chain store, so let their purchase work for you. With no up-front payment and our automated online platform, it could not be easier to get started.

Our Christmas Wreath Fundraising Program is perfect for:
- Church Groups
- Youth Sports Teams
- Schools and Booster
- Clubs Boy Scouts
- 4H Clubs or any other non-profit organization


WreathRaiser Fundraising Program

Our all new WreathRaiser fundraising platform offers the absolute easiest fundraising solution available, here's how it works:
►
Register for pricing information by clicking on the "Register for Pricing Now" link below. Immediately after registering, you will receive an email with a link to our Full Details page. If you do not receive the email, be sure to check your spam folder. After reviewing the pricing information, you can sign up for our fully automated WreathRaiser fundraising program.
►
Provide details about your fundraiser (such as name, marketing message, fundraising goals, etc.).
►
Specify what prices you would like to sell your wreaths for. We'll provide you with both a customized website where supporters can place orders as well as customized sales flyers that can be printed to track paper orders.
►
Start selling online and in person! Our fully automated WreathRaiser system provides you with all the online tools you need to easily manage your fundraiser. You have instant access to all sales quantities, quantities by seller, sales revenue, and most importantly your organization's profit. Our online platform provides organization administrators with a comprehensive dashboard which allows them to easily manage their entire sales campaign.
►
After you have reached your set sales end date, we will finalize your order, determine the actual shipping cost, and ship all wreaths to your organization's address in bulk boxes of 12.
►
The shipping total will be determined at the time of shipping, but averages $3 to $6 per wreath, depending on the order quantity and shipping destination.
►
Note that when shipping to the fundraiser's location, wreaths will be shipped in large boxes that hold approximately twelve wreaths per box. This drastically reduces the shipping cost per wreath, and is the recommended method. Once you receive the wreaths, you can have your supporters pick them up from you at a specified time. If you live in or near Michigan, you also have the option to pick up the wreaths directly from our farm.
►
All orders are to be placed by November 15th. All wreaths will be shipped between November 20th and December 10th.
That's it! We guarantee you won't find a better wreath fundraiser anywhere!

We Offer the Highest Quality Christmas Wreaths Available
We hand-craft all of our fresh Christmas wreaths out of the finest quality fir boughs available. The end result is a beautiful, fresh Christmas wreath that will last much longer than traditional wreaths.

Why Us?
We know that there are several Christmas wreath fundraising programs out there. There are five key things that set us apart:
►
Quality - We have been in the Christmas tree business for over 40 years! We know every aspect of the business. We have participated in Wholesale Christmas Trees/Wreaths, Retail Christmas Tree Lots, Mail Order Christmas Trees/Wreaths via FedEx, and Christmas Tree/Wreath Fundraising Programs. We are able to provide all of our Christmas wreath fundraisers with USDA #1 or better high-quality wreaths. All wreaths are made out of fir boughs, which are known for their beautiful color, fresh fragrance, and extended longevity. All of our wreaths are made fresh prior to shipping, so they are guaranteed to last far longer than traditional wreaths. We use a mix of high-quality Fraser Fir, Balsam Fir, Concolor Fir, and Korean Fir boughs.
►
Small Minimums - With a minimum of only 12 wreaths, you don't have to make a large minimum count commitment to participate. Wreaths are sold in increments of 12.
►
Best Marketing Program - We not only provide you with high-quality Christmas wreaths, we also provide you with a fully automated online platform to manage your fundraising program. This is an indispensable marketing tool!
►
High Profit Margins - Most organizations can easily earn $4,000 - $6,000. Some large organizations could raise a great deal more. There are no limits. You are selling a high demand product that people already buy anyway. Most members of your community would rather support a local organization than a large chain store anyway.
►
We Are Family - "Best Wreath Fundraiser .com" is owned and operated by Brown's Tree Farm. We are a family-owned business that cares about our customers, with several customers that we have worked with for over 30 years. We pride ourselves on providing great products at a fair price while helping our customers be successful. Regardless of how large or how small your organization is, we are willing to help you in any way we can.
Pricing
You must register below to view wreath pricing details. Note that you are not required to sign up for our fundraiser, but you must register to view pricing.


Register Now
If you have reviewed all the details about our fully automated Christmas Wreath Fundraiser and you would like to view pricing details, click Register For Pricing Now to be directed to our pricing page.

If you have any questions at all, please don't hesitate to contact us.

Guaranteed Quality

Freshest Available
Direct from Grower
High Profit Margins
WE PROVIDE YOU WITH

Sales Program
Marketing Material
Your Own Website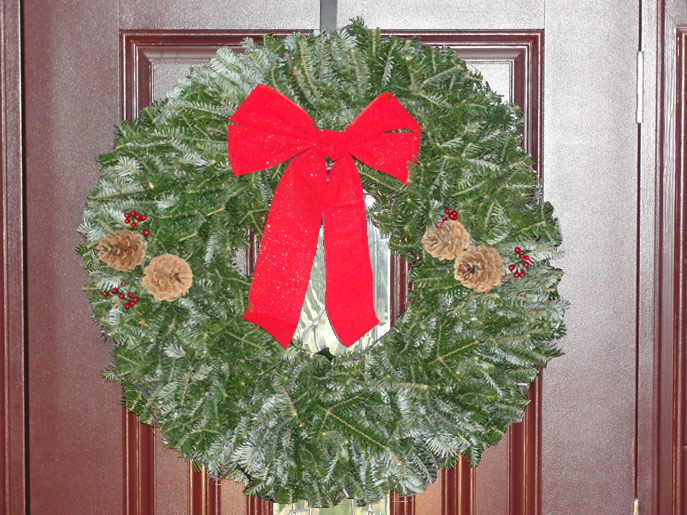 Brown's Tree Farm makes it easy to start a Christmas Wreath Fundraising Program with Zero Risk to You!

We are your #1 source to Start a Christmas Wreath Fundraiser. We guarantee you will be 100% satisfied!
Buy a

REAL

Christmas Wreath and Support Our Economy
Most Fake Christmas trees and wreaths (85%) in the U.S. are imported from China. Almost 10 Million fake trees were sold worldwide in 2003. Most artificial Christmas trees are made of metals and plastics. The plastic material, typically PVC, can be a potential source of hazardous lead. The potential for lead poisoning is great enough that fake trees made in China are required by California Prop 65 to have a warning label. While they're growing, REAL Christmas Trees support life by absorbing carbon dioxide and other gases and emitting fresh oxygen. The farms that grow Christmas Trees stabilize soil, protect water supplies and provide refuge for wildlife while creating scenic green belts. Often, Christmas Trees are grown on soil that doesn't support other crops.

Have a

Happy Holiday

and buy a

Fresh Real Christmas Wreath!